Antioxidants Role in Skin Care
(A four minute read)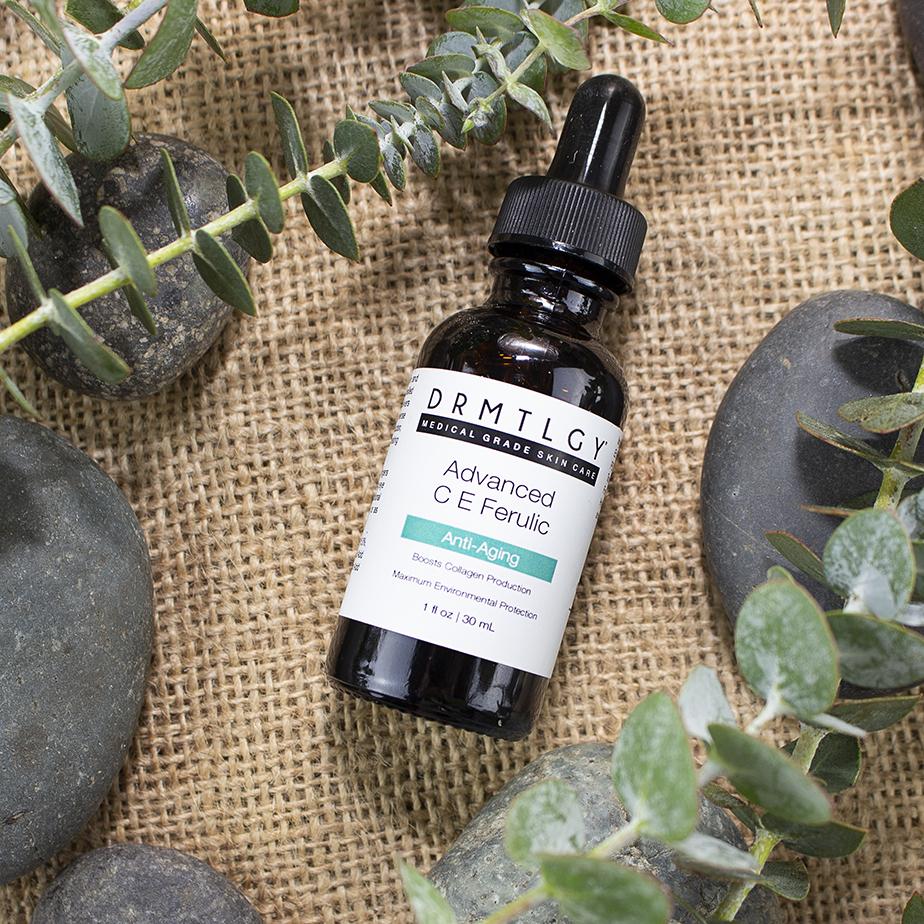 Antioxidants have experienced something of a surge in trendiness over the last two decades. They've been the primary sales-pitch for products from green tea to pomegranates to dark chocolate—and with good reason! Powerful antioxidants like vitamin C, vitamin E, and ferulic acid have been a prime weapon in our war against free radicals. Free radicals—often found in air pollutants like UV rays, smog and cigarette smoke—attack healthy cellular molecules in your body, causing a breakdown of certain cells that make up important proteins, like collagen. The damage caused by these harmful molecules is a major component in accelerated aging.
The severity of free radical damage increases as we get older and our collagen cells deplete after years of attack. As these collagen molecules break down, our skin starts to lose elasticity, causing fine lines and wrinkles to develop.
Antioxidants: A Hero Story
Essentially, antioxidants are fighters against free radicals. Antioxidants give free radicals the molecules they crave, neutralizing their detrimental effects. Once free radicals are stopped, the healing process can begin. As the antioxidants neutralize these destructive molecules, skin cells become repaired, helping to restore collagen production.
But the antioxidants' job doesn't end there. Vitamin C (also called L-Absorbic Acid) has shown to be particularly helpful against the damage caused by ultraviolet (UV) rays. Though vitamin C doesn't act as a sunscreen or shield skin from the sun, it does dramatically help reverse the adverse effects that UV rays have on the skin. This can help considerably with brightening your complexion, and correct common issues like hyperpigmentation.
Ferulic acid—another big player in the world of skin care antioxidants—works in tandem with vitamin C to repair damage to the epidermis, optimizing the results and showing significant signs of tighter, more elastic skin. When used together, ferulic acid both lengthens the life of the vitamin C and strengthens its potency.
While both vitamin C and ferulic acid have proven to be immensely powerful agents against aging skin, the addition of vitamin E helps both reverse damage caused by environmental pollutants, as well as repair scarring and sun spots.  And though vitamin E's results have proven to be effective, on its own, the vitamin's effects tend to diminish when in contact with UV rays. Fortunately, experts discovered that vitamin C and ferulic acid both enhanced the effect of vitamin E, and helped stabilize its effects when in the sun.
Basically, vitamin C, vitamin E, and ferulic acid work as a team fighting for you skin.
Advanced C E Ferulic vs. Competitors
The reasons to add an antioxidant serum to your daily routine are abundantly clear. Free radicals are everywhere and causing our skin harm every day. Regular use of an antioxidant serum can dramatically reduce their effects, restoring a bright, youthful radiance to your skin. But which one should you use?
There are no shortage of options out there. And while plenty of products make similar claims about the effectiveness of their products, here at DRMTLGY we saw an opportunity for improvement. That improvement? Acetyl Octapeptide-3.
Acetyl Octapeptide-3 is a powerful amino acid whose mission is to reduce the wrinkles and lines caused by facial expressions, like nasolabial folds (laugh lines), forehead lines, and crows feet. It's modern water-binding properties help keep skin hydrated and smooth. This powerful little peptide significantly boosts cell repair of both collagen and elastin, enhancing the age-reversal effects that the antioxidants provide.
Not only will our Advanced C E Ferulic provide the antioxidants your skin needs to fight those pesky free radicals, but the addition of Acetyl Octapeptide-3 will ensure that your skin feels softer and smoother, making the appearance of fine lines and wrinkles all but diminished.
Archives of Plastic Surgery, May 2015, pages 282-287
International Journal of Nanomedicine, May 2016, pages 1987-2007
Journal of the European Academy of Dermatology and Venereology, August 2015, pages 2326-2332
Pharmacognosy Review, July 2010, pages 118-126
This advanced formula, containing Vitamin C (L-Ascorbic Acid) 15%, Vitamin E 1%, and Ferulic Acid 0.5%, is clinically proven to deliver unparalleled results in reversing signs of aging. Increase collagen production, provide superior antioxidant protection, correct hyperpigmentation, and reduce the appearance of fine lines and wrinkles with this rich anti-aging serum.

Unique combination of Vitamin C, E, Ferulic Acid, Hyaluronic Acid, and 

Acetyl Octapeptide-3

Provides superior anti-aging benefits
Brightens overall complexion

Provides advanced environmental protection against damaging free radicals