PHYSICAL SUNSCREEN VS. CHEMICAL SUNSCREEN
Physical Sunscreens are often considered more traditional "sun blocks." These are mostly comprised of mineral-based ingredients—namely zinc oxide & titanium dioxide, both of which block UVA and UVB rays. Essentially, they act as a shield on top of your skin, deflecting away the sun's harmful radiation. Because of this, physical sunscreens are usually the preferred sunscreen for those with sensitive skin. 
Physical sunscreens are also very fast-acting; since they work as a shield, your skin is ready and protected the moment they're applied. Spread a healthy amount on (most of us don't apply nearly enough sunscreen), massage it into your skin, and you're ready to go! By nature, physical sunscreens are not waterproof, so if you're going to be in a pool or swimming at the beach, chemical sunscreen may be the better option.
Chemical Sunscreens, as the name implies, are comprised mostly of chemical compounds. Instead of blocking UV rays, chemical sunscreens absorb them, convert them to heat, and release them from the body. These sunscreens tend to be lighter in consistency than physical sunscreen, making them easier to apply. Because of their thinner consistency, they tend to be popular for those with comprehensive skin care routines, as physical sunscreens can sometimes be heavier than moisturizers.
Due to the fact that they must fully absorb into your skin before they become effective, we recommend giving chemical sunscreens 15-20 minutes before going outside with them. Fortunately, however, chemical sunscreens are waterproof and sweat-proof, making them ideal for sports and summer swims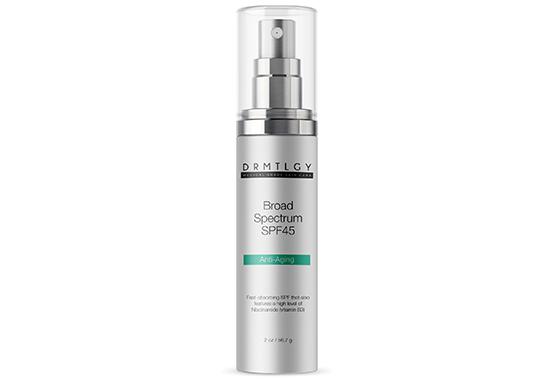 BROAD SPECTRUM SPF45
Hybrid: Blend of Physical + Chemical
An innovative clear, non-greasy, powerful sunscreen that combines the shielding elements of Zinc with chemical compounds to boost hydration and add anti-aging benefits. This unique anti-aging sunscreen will prevent further aging and skin damage, plump your skin to reduce fine lines and wrinkles, reduce redness, and regulate excess oil.
Goes on clear with no greasy residue. 

Oil free, fragrance free, and hypoallergenic

Suitable for sensitive skin.
UNIVERSAL TINTED MOISTURIZER SPF46
Hybrid: Blend of Physical + Chemical
This antioxidant-rich SPF 46 is lightweight, oil-free and perfect for every skin tone. Formulated as an all-in-one sunscreen and foundation that blends naturally to match all skin tones, leaving a natural, healthy glow. Also features a high concentration of Hyaluronic Acid, Niacinamide, and Vitamin E.
Blends evenly to match every skin tone.

Moisturizes and provides sheer color coverage

Protects from UVA, UVB, and infrared radiation
ACTIVE SUNSCREEN
Chemical Sunscreen
This formula is a natural, lightweight, water resistant, broad spectrum SPF 49 that is free of chemical actives! Use this product to prevent premature aging by protecting against free radicals, UVA rays and UVB rays. 

Coral Reef Safe!

Water Resistant (up to 80 minutes)

Goes on clear with no greasy residue
World-Renowned YouTube Dermatologist Compares Broad Spectrum SPF45 to the Leading Sunscreen in the US
:|zpendofcontent|: